"Two are better than one, because they have a good return for their labor: If either of them falls down, one can help the other up. But pity anyone who falls and has no one to help them up."

– Ecclesiastes 4:9-10
Brown's Connect Groups are a place where you can be equipped to become more like Jesus and to live a faith-filled life. At Brown, we believe that every person is created with God-given potential to make a difference in the world. Connect Groups are a place where there are like-minded people who believe in you. This is how leaders are developed. We want to see you grow, flourish and become all that God has called you to be! 
---
JOIN A CONNECT GROUP
Connect Groups meet at least once a month. Connect Groups scale across various areas such as Spiritual, Career, Finances, Men, Women, Social, and many more. Find a Connect Group for all stages of life and spiritual growth.
---
INTERESTED IN LEADING A CONNECT GROUP?
Connect Group leaders at Brown are vital to the growth and development of mature disciples of Jesus Christ. Connect Group leaders create welcoming environments where people can grow in their faith and fellowship in community with others.
---
MINISTRY STAFF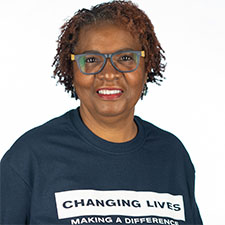 Christian Education Coordinator
Gloria Cage
---