Brown Baptist Academy of Music is a ministry of Brown Missionary Baptist Church of Southaven, Mississippi. The Academy functions under the umbrella of the Worship & Creative Arts department and serves the church by:
Providing excellent training in the performing arts
Assisting in meeting students' spiritual needs
Developing future church music leaders
Acting as an outreach platform for Brown Missionary Baptist Church
It is our desire to provide the best in fine arts instruction. We are dedicated to creating an atmosphere where students can learn music, grow spiritually and use their talents to glorify our Creator.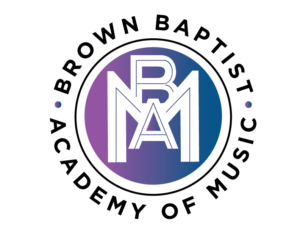 We are currently offering both private and group lessons in the following disciplines:
Piano
Maeve Brophy – Head Of Piano Studies
Strings
Aromi Park – Violin/Viola/Suzuki Violin
Joseph Miller – Cello/Bass
Mario Williams-Violin/Viola/Cello/Bass
Akilah Scott -Suzuki violin/conductor BAM string ensemble
Christopher Franklin – guitar
Percussion
Cedric Knell – Percussion
Brass
Dr. Martin McCain – Trumpet/Sax/French Horn/Trombone/Tuba
Woodwinds
Clifton Brady Flute/Piccolo/Oboe/Clarinet/English Horn/Saxophone
We Also Now Offering ONLINE MUSIC LESSONS
For additional information, please contact:
Mario Williams
Director of Brown Academy of Music
music@brownbaptist.org
662-342-6407 EXT. 117