But you will receive power when the Holy Spirit comes on you; and you will be my witnesses in Jerusalem, and in all Judea and Samaria, and to the ends of the earth.

– Acts 1:8 (NIV)
Here at Brown, we have a heart for serving! Our Missions Ministry is called to encourage and evangelize by way of our spiritual GPS – Give, Pray, and Serve! While serving, we strive to fulfill our calling of going wherever doors are open to share the word of God and His power. We frequently complete outreach projects such as preparing and distributing meals to the homeless, working with children in underserved communities, hosting donation drives, and much more!
Brown's Missions Ministry is consistently creating compelling avenues to love others through service. We are always looking for committed volunteers who are passionate about being the hands and feet of Christ. Please visit our volunteer management platform, vomo.org (use code Volunteer2022) to receive updates and sign up for local service opportunities.
---
MINISTRY STAFF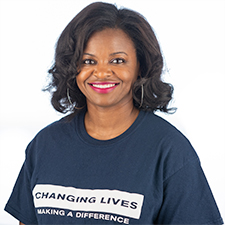 Mission's Coordinator
Charla Webster
---
FOR MORE INFORMATION
---